Full & Complete Dentures
Those that need to replace their entire set of teeth require full and complete dentures. Dr. Atencio can create a full set of dentures that will restore your smile and give your face the support it needs. While there are many options available in dentures, we prefer the advantages of premium dentures. This new technology offers dentures that look more natural and fit comfortably in your mouth by using the muscles, tendons, bones and entire mouth structure to stay in place. The end result is dentures that function better while giving you a more youthful, natural appearance. 
Partial Dentures
For those only missing some of their teeth, partial dentures can be an affordable option to restore their smile. These removable devices are a good option for those that cannot have a dental bridge put in place due to lack of abutment teeth or other dental issues. Dr. Atencio can create partial dentures that blend in with your natural teeth, creating a beautiful smile that will help protect your dental and overall health.
Whether you already have dentures or are considering getting fitted for your first pair, come see the denture experts at Atencio Dentistry. We offer premium dentures that can make a big difference in the quality of your smile and even take years off your appearance. We also repair dentures at our office. Contact our office today to learn more. 
At last you can say good-bye to that "Denture Look"!
Today you have a choice for your dentures. They don't have to fit poorly, function poorly, or make you look old. Geneva 2000 Premium Dentures™ are the latest innovation in dentures. They fit better, function better, and look better than traditional dentures. They can even take decades off your apparent age by providing better support for your facial tissues.
To learn more about Geneva 2000 Premium Dentures™ and how they can help you, please call us today and set up your consultation with Dr. Atencio at 775-829-8684. Check out our separate website dedicated to this procedure at www.renofaceliftdentures.com
The Geneva 2000 Premium Dentures™ Difference
Geneva 2000 Premium Dentures™ represent a major breakthrough in the design and fit of dentures. They are designed on the principles of neuromuscular dentistry, which means they are designed not to just sit on your gums—they are designed to work with the muscles, nerves, bones, and other parts of your mouth system to be better dentures. The insights of neuromuscular dentistry improve the fit, function, appearance, support, and longevity of Geneva 2000 Premium Dentures™.
The Benefits of Geneva 2000 Premium Dentures™
Better Fit: Traditional dentures just sit on your gums, typically held in place by suction. Geneva 2000 Premium Dentures™ are designed to work with the muscles in your mouth, which help hold the dentures in place for a better, more secure fit.
Better Function: Because Geneva 2000 Premium Dentures™ work with your mouth's muscles, they are more secure no matter how your mouth is moving. You will be able to eat more foods with these improved dentures, and they will help you to speak clearly, just like your natural teeth did.
More Attractive: Geneva 2000 Premium Dentures™ are made of the highest-quality materials, giving them a more natural appearance than economy dentures. And their excellent fit helps them look more like your natural teeth. Few, if any, will notice you have dentures.
More Supportive: Your teeth play an important role in supporting the structures of your face, including your skin and facial tissues. When you lose teeth, excess facial tissue can hang loose, making you look more aged. Traditional dentures don't do well at supporting your face. Geneva 2000 Premium Dentures™, on the other hand, do support your facial tissues and can take 20 years off your apparent age.
Longer Life: Traditional dentures often don't last very long. Poorly fitting to begin with, they don't stimulate your gum and jaw bone properly, causing your body to take away bone material, what is called resorption. This means that traditional dentures will soon fit even worse and have to be replaced often. Geneva 2000 Premium Dentures™ stimulate your jawbone to maintain fit year after year after year.
Discount Dentures Are Not a Bargain
It may seem like a deal to get less-expensive dentures. You may even think that you can replace them regularly and still save money. However, it's important to know that poorly fitting bargain dentures come with many hidden costs, including:
The expense, mess, and possible toxicity of denture cream
Denture pain
Lack of self-confidence and diminished quality of life
Increased risk of jawbone fracture
Malnutrition from not being able to eat a full range of foods
All these additional costs mean that life with discount dentures is just not worth it. Quality dentures are the best deal around.
Related Denture Articles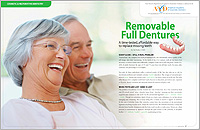 Removable Full Dentures
Complete tooth loss can cause a host of health problems, including malnutrition and bone loss. Though fixed bridgework may hold a higher place of reverence when it comes to replacing an entire set of teeth, removable full dentures can provide an elegant solution that is significantly more affordable… Read Article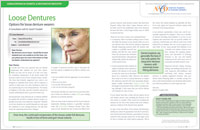 Loose Dentures
Loose dentures are a common problem for people who are full or complete denture wearers, especially if you have worn them for a long time. Whether or not new dentures are needed depends not only upon the condition of your existing dentures, but also how much the supporting tissues have changed… Read Article